Equipment to Increase Stamina
Stamina 1690 Power Tower Exercises:
Stamina 1690 power tower weight limit is 250 lbs. Should take this into account when buying training. You should not perform exercises with additional weights if Your weight is close to this limit.  Be sure to warm up for five to ten minutes prior to the start of basic training. No matter you are a beginner or an experienced athlete. You should warm up your muscles and ligaments to prepare the body for stress. After a workout does some stretching – this will reduce injury and increase training effectiveness. Some tips, for this reason, You can find the manuals, which you can download from the link above.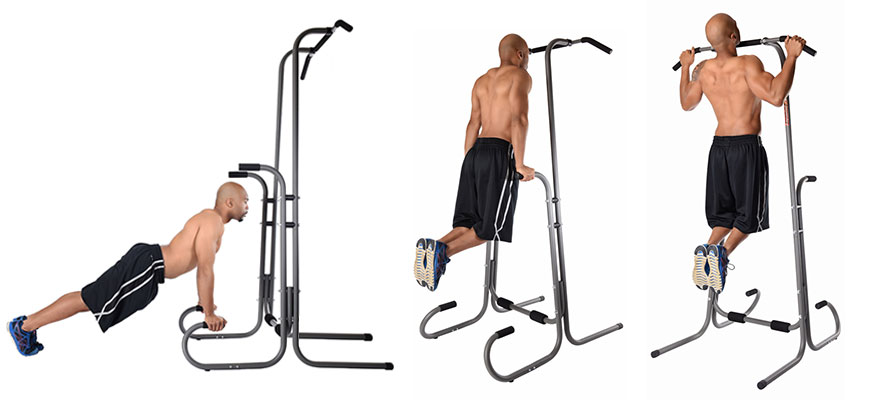 1. Push-ups two types of grip – wide for chest muscles, narrow hand, and deltoids. A good basic exercise. It is performed by both beginners and professionals. Using the options of push-UPS you can shift the load. For greater effect, you can use a series and combination of exercises.
2. Triceps dips a good exercise for the triceps, deltoid and chest muscles. Easy to hold balance with comfortable handles. Exercise also traumatic. Therefore, it is recommended to perform it in the middle of a workout, it's good to warm up the muscles and ligaments. It is important to perform the exercise with good technique, as improper execution can also lead to injury.
3. Pull-ups basic exercise for the back muscles. Do different grips for greater effect. This exercise is best for back development. It is performed slowly, without rocking. Also, you can use Stamina Rotating Handle Set and increase the number of exercise options.
4. Vertical Knee Raise strong core muscles, beautiful abs. Complete this exercise with hanging leg lifts on the bar. All want to have beautiful abs, but few want to work. If you have this equipment You will be able to perform exercises regularly. For the abdominal muscles can also do crunches. But you also need to normalize your meals. Combining the two components you will succeed.
You can also perform additional exercises. Hanging on the bar, you can perform leg lifts for the abdominal muscles. It is possible to perform static exercises. Applying additional handles and straps TRX you can perform a number of exercises.
In the General instructions, there is a section which shows how to perform basic exercises – starting and ending body position, technique. Completing the exercise you must cool down. This special relaxation exercises which bring the body in normal condition, normalizing heart rhythm.
Tags:
Increase Stamina